My LaTeX Beamer Theme
May 21, 2015
I generally avoid Office suite type software, preferring to use LaTeX for writing things that need any kind of formatting. LaTeX is awesome for a few reasons:
It is text-based which means that files won't get corrupted, they can be managed with version control tools, edited with any text editor like Vim, work with Unix tools like grep etc.
It's programmable. You can create your own macros which are expanded when the document is compiled.
The presentation is separate from the content. I like writing my stuff separately from thinking about how it actually looks on the page.
It handles things like references, table of contents and so on automatically.
It produces better looking documents than word processors.
I also use LaTeX for making presentations with the Beamer class, which gives you all the benefits of LaTeX for making slides instead of documents. Beamer is really easy to use, and comes with lots of themes, but none of them are quite what I wanted.
The closest is "Ilmenau" which has some really nice features. Here's what it looks like: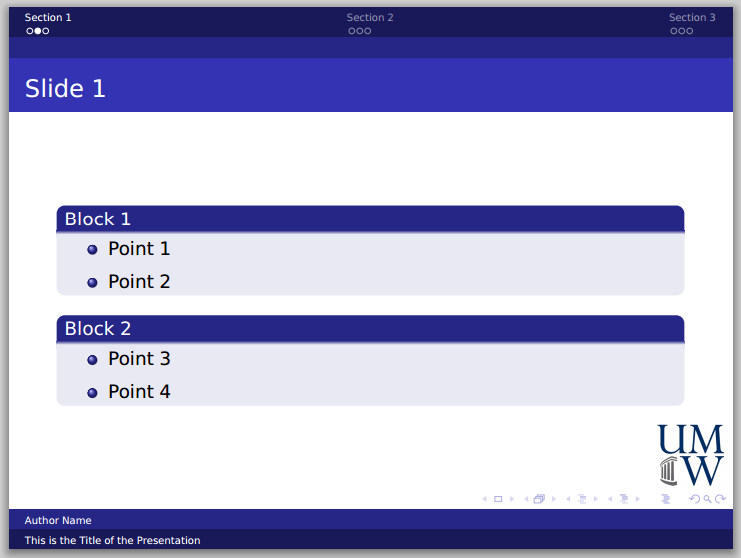 I love the circular progress indicators at the top (which are links making navigation really easy), and I love the main look of the slides, but there are a few annoyances:
There are too many horizontal bars. The blank one at the top is for sub-sections which I have never needed in a presentation. The author and title can combine in the bottom to save space too.
The navigation control in the bottom right are not necessary with the bubbles at the top.
I don't like the bullet gradient.
The color is not something you can easily change.
In the past I have fixed these by changing the Ilmenau theme files that come with LaTeX, but this is such a hackish way to do it (and can't be done on a machine without root), that I finally got around to doing it the proper way.
So I made a new Beamer theme called "Fredericksburg" - they are all named after cities (Ilmenau is in Germany) - to fix these problems. Here is what it looks like: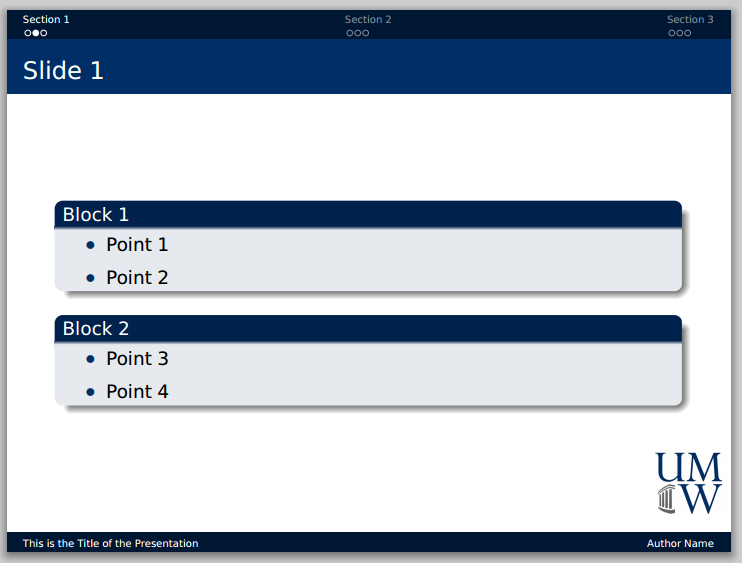 Much better. I also put the theme files and an example presentation on Github so I can find it next time. Making the theme was fairly simple, I just copied Ilmenau and edited things as I saw fit. The trickiest bit was making the color an option. Above it uses UMW blue, but it can be changed to any color.
Copyright © 2022 Ian Finlayson | Licensed under a Attribution-NonCommercial 4.0 International License.