Lab 10: Complete Graphs
---
Objective
To gain experience with graphs.
---
Task
Recall that a complete graph is one in which every node is connected to every other node by an edge, like this: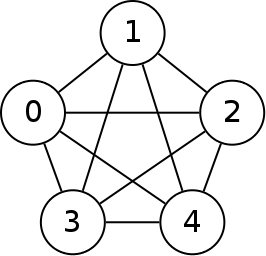 In this lab, you will write a function to test whether or not a graph (based on an adjacency matrix) is complete.
---
Details
Start by downloading Complete.java which contains a graph class based on an adjacency matrix, as well as a main program to test it.
This file has an empty method called complete.
Fill in this method so that it tests the graph to check if it is complete or not and returns a boolean.
The main method tests this on a graph that is complete and one that is not.
---
Submitting
When you are finished, please upload your code to the Canvas page for this assignment.
Copyright © 2023 Ian Finlayson | Licensed under a Attribution-NonCommercial 4.0 International License.